Phew. Thursday you shady lady, I thought you were never going to get here, but here we are, lunchtime on a Thursday already. Eggcellent.
There's the AC/DC thing tonight at the Shang, I'm curious to see the horrendous hair do's.
Now, this week has been abuzz with discussions and debate about the visa changes, and Omanisation in general. It's sparked some people into showing a deep-rooted hatred of others (be it expats hating Omani's or vice versa) and its quite frankly all a bit disgusting, and I fully agree with
Aish Elaqtta's post
about this from yesterday.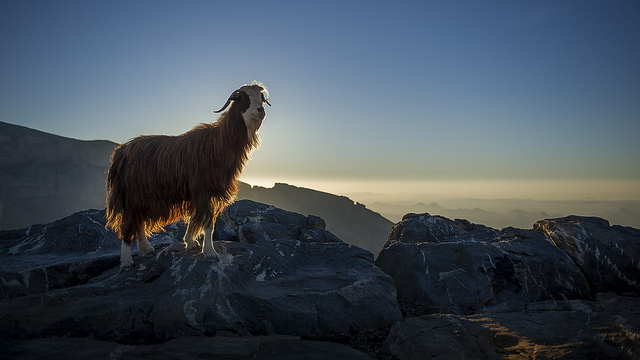 Mountain Goat (Krishna Kumar/flickr)
I've noticed on facebook for the last few days, a link showing 36 breath-taking images of the place we are living, its a nice reminder of just how stunning this place can be...
Go check it out
.
Tomorrow see's the MRFC touch rugby tournament, possibly the last ever rugby related event to take place on the rugby pitch by the ABA school before the move to new facilities in Bowsher next season. If touching people running around trying to keep their ball from you isn't your bag, you might be interested in a mango eating contest the guys down at Puranmal are hosting tomorrow; along with a shopping festival too.
The mango eating thing starts from 4pm and is open to anyone - basically eat as many mangoes as you can in three minutes. The shopping thing starts from 10am and runs till 10pm with the usual assortment of stalls you find at these things.
Have a great weekend everyone!
le fin.
The weekend, and how nice Oman can be
Reviewed by
Sythe
on
Thursday, May 15, 2014
Rating: